When it comes to celebrating life's most significant moments, The County General in Toronto stands ready to transform your gatherings into unforgettable banquets. Whether you're marking a milestone birthday, hosting a corporate event, or simply gathering with friends and family, our restaurant offers an exceptional setting and a culinary experience that will leave a lasting impression.
Exquisite Venue:
Nestled in the heart of Toronto, The County General provides an exquisite backdrop for your special occasions. Our thoughtfully designed interior seamlessly blends rustic charm with modern elegance, creating an atmosphere that is both inviting and sophisticated. With a flexible layout and a dedicated events team, we can accommodate gatherings of various sizes, ensuring that every detail of your banquet is tailored to perfection.
Customized Menus:
At the heart of every banquet is the food, and we take great pride in crafting culinary experiences that delight the senses. Our team of talented chefs combines local, seasonal ingredients with innovative techniques to create a menu that reflects your preferences and the essence of the occasion. Whether you envision an intimate dinner or a lavish buffet, we'll work closely with you to curate a menu that exceeds your expectations.
Personalized Service: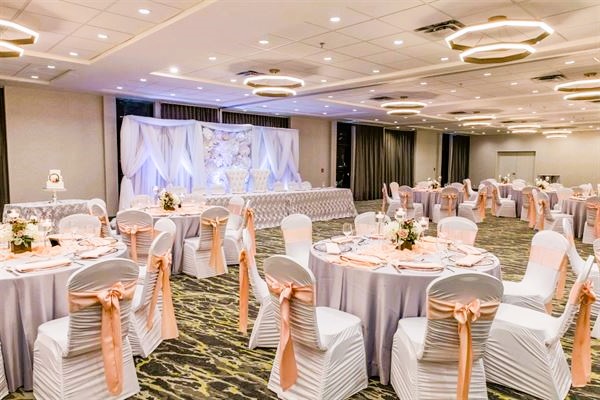 We understand that every event is unique, which is why our personalized service extends beyond the menu. From the moment you inquire about hosting a banquet at The County General, our dedicated events team will collaborate with you to understand your vision, preferences, and requirements. We'll guide you through the planning process, ensuring that every aspect – from décor to entertainment – aligns seamlessly with your vision.
A Culinary Journey:
What sets our banquets apart is our commitment to creating a culinary journey that tells a story. Each dish is carefully crafted to evoke flavors, memories, and emotions, making your banquet more than just a meal – it's an experience. Whether your guests are savoring signature dishes that pay homage to Toronto's culinary heritage or indulging in contemporary creations that push the boundaries of taste, our banquets are designed to leave a lasting impression.
Creating Lasting Memories:
At The County General, we believe that every celebration should be a reflection of your unique style and aspirations. With our attention to detail, creative approach, and dedication to exceeding your expectations, we're here to help you create lasting memories that will be cherished by you and your guests for years to come.
Book Your Banquet:
Ready to elevate your celebrations to new heights? Contact our events team at [email protected] to discuss how we can turn your vision into a reality. Whether you're envisioning an intimate gathering or a grand soirée, The County General is your partner in creating banquets that are as exceptional as the occasions they celebrate.